Countdown to Football Frustration
Next Frustrating Hoops Victory
Next Lacrosse Annihilation
1

Comments
Published on 2.11.2006 by Hoya Suxa


C'mon, God. It Just Isn't Funny Anymore.
Apparently, it's
"Storm of the Century"
time in the Northeast, which means that the Stop & Shop is going to be jam packed with those "Repent Now! The End is Near!" people. This will, inevitably, make my burrito buying a nightmarish chore.
It's not so much the amount of
snow nor the treacherous conditions
that I worry about. It's the fact that NBC will force feed me figure skating tonight and frankly, I'd rather drink gasoline than say that I enjoy watching some fruity pebbles make a mockery of an ice sheet. And, unfortunately, there's nowhere I can go to escape this travesty, thanks to my car having the equivalent of no wheel drive.
If there is any justice in the world, someone will have an agony of defeat moment in the luge thus rendering my life meaningful again.
Speaking of the Olympics...
With Syracuse deciding that it no longer wants my affection, I am raging against the Orange machine by
devoting a lot of space on this blog
over the next few weeks to the anti-sport that is curling. Joining me in this quest will be super curling analyst Dave Pearson, whose 24 years of not ever doing anything remotely athletic will be the perfect compliment to the sport.
I'll Take People I Don't Want To Be For a $1000, Alex
It looks like the rumors have come to fruition. On Monday morning,
Donnie Webb is reporting
that Syracuse will hire Phil Earley as the football team's new quarterback coach. This will move Brian White, who was just hired to yell at the signal callers, into the offensive coordinator position.
Earley has been quite the globetrotter. Last season, he was on the staff at Auburn. In 2004, he was the offensive coordinator and coached the quarterbacks at Ohio (which, under world-class alcoholic Frank Solich, runs the Nebraska option attack). Additionally, Earley has had stops at Nevada, Idaho, Cincinnati, Washington State, Western Washington, Weber State and Cal Poly.
If there are three jobs in the world I would not take, it'd be these in this order:
1. Syracuse offensive coordinator;
2. Syracuse quarterbacks coach; and
3. Dynamite-lined life jacket operator.
Even if White and Earley get ever bit of talent out of Patterson and Fields this year, their efforts will likely be all for naught, because even if you polish shit, it's still shit.
A Glimmer of Hope
Despite common perception, not everything sucks at Syracuse. Down in Annapolis, Md yesterday, the Orange lacrosse team laced 'em up against Navy and came away with a
7-6 scrimmage victory
.
As the SU Athletics release states:
Attackman Mike Leveille scored two goals to help the Syracuse men's lacrosse team to a 7-6 exhibition win against Navy. The two teams played a regulation 60 minutes and then played a fifth quarter of running time.

Sophomore goaltender Jake Myers started the first half for SU and had 10 saves, while allowing just two goals. Redshirt freshman Pete Coluccini played the entire second half and finished with nine saves. Junior Casey Rotella stopped two shots in the fifth quarter of action.

In addition to Leveille's two goals, the Orange got goals from Joe Yevoli, Greg Rommel, Pat Perritt, Steven Brooks and Brett Bucktooth.
Pulling out a victory against a solid Midshipmen squad is uplifting, but I'm still a little worried about the output the attack has generated over the last three outings. Against Fairfield, the team only tallied five markers; the LeMoyne scrimmage only saw Syracuse accumulate nine goals. That's a total of 21 tallies in 11 periods of game time. That just isn't going to cut it for the team with the nation's seventh best
offensive efficiency last season
.
Even John Desko is is
worried about the output
:
"I thought that we'd score some more goals," he said. "The thing that you adjust to with this kind of team is you've got a number of offensive personnel and I think they all feel like they have to make something happen. And as a result, they all try things that maybe they shouldn't be doing early in the game. We took some bad shots today. Forced some things inside. And when you try to make something happen so quickly, you don't get a feel for what the defense is doing and how to react properly."
Complimentary Feel Good Moment
With all this doom and gloom aside, it's time for today's feel good moment.
Ray Young
provides the moment, and what a moment it was: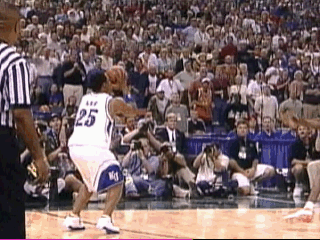 I still hate figure skating.