Countdown to Football Frustration
Next Frustrating Hoops Victory
Next Lacrosse Annihilation
2

Comments
Published on 2.13.2007 by Hoya Suxa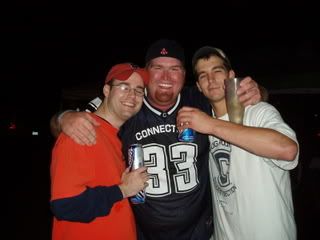 L-R: Infallible Saint, Hater of Whiskers on Kittens, Lover of Bee Stings.
And now,
a word from the batshit insane
:
I think UConn fans should shout whatever they want at [Paul Harris], as a matter of fact, I was one of them.

Comparing AJ Price, who stole some laptops, to Paul Harris, who sold crack and beat up his girlfriend, is a weak analogy. They are both criminals, but I give the edge to Paul Harris here.

Also, most of the UConn fans don't even like AJ Price. A lot of students wanted him and Williams kicked off the team last year, and this year, we'd rather have other players start in his place, just because there are better basketball players.

So print this in your ugly orange blog

Jeffrey Kittens
On the record, I neither tacitly support nor overtly accept such behavior from fans or students. Mercilessly jeering collegiate athletes is a dastardly act that should be punishable by decapitation.
Off the record, I unequivocally support the brutal, profanity-laced, and sophomoric slandering of Connecticut. The Huskies program is downright disgraceful given the cast of characters that Jim Calhoun has brought to Storrs over the last decade and a half.
To fan the flames of disdain -- and to hoist a mirror in front of young Jeffrey Kittens -- I present an excerpt from arguably
the most important essay ever penned
. It was the genesis of the term "Connvicts" and stands as a case study examining whether particular ends should justify pursued means.
2005: A.J. Price
· Stole four laptop computers in June 2005

2005: Marcus Williams
· Stole four laptop computers in June 2005

2005: Antonio Kellogg
· Charged with possession of less than four ounces of marijuana
· Charged with criminal intent to assault a police officer, criminal trespass, and interfering with an officer

2004: Clyde Vaughan
· Charged with patronizing a prostitute and interfering with an officer

2003: Ben Gordon
· Charged with third-degree assault and disorderly conduct, both misdemeanors

2003: Rashard Anderson
· Threatening and breach of peace

2001: Marcus Cox
· Charged with one count of marijuana possession

2000: Tony Robertson
· Accused of scheming to swap tickets for boots at the Timberland Stores at Westfarms Mall. No charges were filed after a four-week investigation.

1999: Khalid El-Amin
· Charged with possession less than four ounces of marijuana after his arrest in Hartford's North End

1998: Antric Klaiber
· Charged with driving under the influence of alcohol, seat belt violation
· Charged with shoplifting

1998: Doug Wrenn
· Charged with shoplifting $85 sneakers from Bob's of Hamden
· Cited for disturbance outside of a bar
· Arrested on breach-of-peace charges

1994: Rudy Johnson
· Charged with breach of peace in an incident involving Connecticut women's basketball player Sue Mayo

1993: Brian Fair
· Charged with shoplifting

1990: Murray Williams
· Charged with driving while intoxicated
Given Kittens' remarks to
Syracuse Post-Standard
staff writer Mike Waters, particular attention should be given to the 2003 arrest of former Connecticut guard Ben Gordon. In that incident, Gordon was charged for smacking the holy hell out of his girlfriend in his dormitory.
Plus, Gordon spits on malnourished orphans and burns adorable puppies at the stake.
The above is probably not fodder for Saturday's contest (although it does make for hilarious hours of parlor room tomfoolery). However, it does shine a light on just how glassy Connecticut's house is and what justifications are necessary to prove that the emperor is, in fact, wearing no clothes.
Labels: Basketball, Big East, Connvicts