Countdown to Football Frustration
Next Frustrating Hoops Victory
Next Lacrosse Annihilation
3

Comments
Published on 11.01.2006 by Hoya Suxa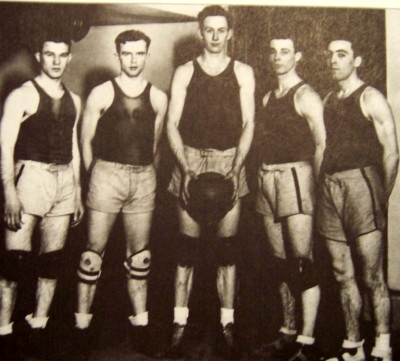 In the late 1920's, people dressed like this on purpose.
No wonder there was a depression.
It's Paul Harris' world; we're just hoping he dominates it.
Syracuse's 2006-2007 hoops season "starts" tonight as the Orange square-off against Bryant College on the
Carrier Dome's new surface
. Tip-off is scheduled for 7:00 PM. The game should functionally conclude around 7:10 PM.
As Syracuse is entering its first "overlap" season (the second, of course, occurs in the late winter/early spring when hoops conflicts with lacrosse), not much attention has been given to Jim Boeheim's 31st edition of the Orange. Superficially, expectations are high in Orange Nation, as Syracuse returns a host of veteran players and two much ballyhooed freshmen in Paul Harris and Mike Jones.
To be honest, though, this year's hoops squad is pretty much an unknown commodity. The core of seniors – Terrence Roberts, Darryl "Mookie" Watkins, Demetris Nichols, and Matt Gorman – have underwhelmed during their time on The Hill. While showing flashes of competency down the stretch in 2005-2006, Syracuse's victories were probably more attributable to Gerry McNamara's performances than the contributions of the aforementioned group.
Boeheim insinuated such a fact just eight months ago during the Big East Tournament
.
Many who anticipate a marked run through the NCAA Tournament in March are pinning their hopes on freshman guard/forward/savior Paul Harris. Such reliance, however, is inherently flawed as anticipating that Harris can duplicate the heroics of former Orange Carmelo Anthony necessarily disregards almost 50 years of college hoops.
Anyone remember Felipe Lopez, the man expected to return St. John's to relevancy? What about Villanova's Jason Fraser, a center many expected to rival former Georgetown Hoya Patrick Ewing in immediate impact? These guys had the hype machine churning our praise and yet, due to various factors, never realized their perceived potential.
The moral of the story: take a wait-and-see approach with this year's edition of the Orange. Anthony is an once-in-a-lifetime type of freshman; to make Harris walk in his footsteps is unfair to both Harris and his teammates.
With respect to tonight's contest, there is much discussion concerning the starting five Boeheim will put on the floor. My best guess at tonight's starting unit is as follows:
PG: Josh Wright
SG: Eric Devendorf
SF: Demetris Nichols
PF: Terrence Roberts
C: Mookie Watkins
I do expect that Harris and Jones will see significant minutes tonight. I also anticipate that Boeheim will play them at various positions at the floor. As the team has only had a few weeks of practice, Boeheim will probably want to see exactly what he has in these two young ballers.