Countdown to Football Frustration
Next Frustrating Hoops Victory
Next Lacrosse Annihilation
0

Comments
Published on 2.07.2015 by Brian Harrison


The hero of the game was obviously Gbinije.
Syracuse beat Virginia Tech by 2 points down in Blacksburg to open the ACC Conference season. The result was the same when VTech traveled to the Dome to take on Syracuse. A two point Orange win. Again, down to the wire. Syracuse made some plays and earned the 72 to 70 win over the Hokies.
Michael Gbinije tied for the lead points with 18 for Syracuse. Trevor Cooney also had 18. But Gbinije had 6 points in the final 37 seconds to give Syracuse the win. Gbinije was 5-9 from the floor, 2-5 from behind the arc, and 6-10 from the free throw line. He also had seven assists and four steals.
Cooney got his 18 on 7-18 shooting, 2-12 from behind the arc. But he hit the 2nd three when it mattered.
Rakeem Christmas finished with 15 points and 12 rebounds. He also had five blocks, four steals, and was 5-10 from the free throw line. A solid day, and a day where he didn't have to play hero, though he did contribute mightily to the comeback effort.
Speaking of comeback, with 5:35 remaining, Syracuse was losing 63-50. Syracuse than caused eight turnovers, while only allowing seven VTech points. SU finished the game on a 22-7 run, winning by two. One of the best comebacks you'll ever see, especially with a team this void of subs and scoring options.
SU's bench got ourscored 46-10. Syracuse doesn't really have a bench. Who cares?
Syracuse shot just slightly better than VTech in the game, 42.6% to 42.2%. From behind the arc however, Syracuse only shot 19% (4-21), while VTech was 50% (9-18). That shooting from behind the arc kept VTech in the game in the first half, and gave them a big lead in the 2nd half. VTech was 6-6 with 3s to start the 2nd half.
Syracuse again struggled at the free throw line, despite Gbinije making the two when he absolutely needed to. And of course, the critical basket for the win.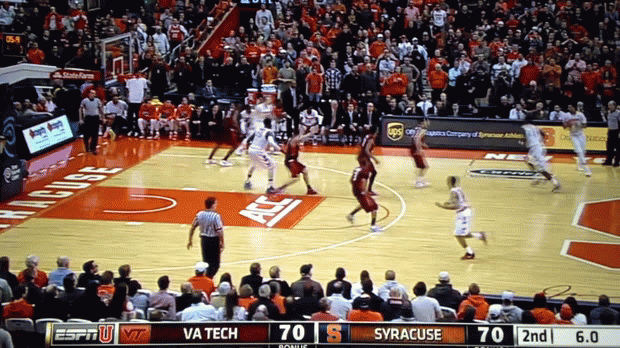 Syracuse has no hope of making the NCAA Tournament now with the self-imposed postseason ban. John covered that
here
. But kids still want to win games. And seeing the team fight that hard to beat lowly VTech was good to see. I expect the same amount of effort to continue. This was a good win for fans and the team. And a great comeback for the ages.
Labels: ACC, Basketball