Countdown to Football Frustration
Next Frustrating Hoops Victory
Next Lacrosse Annihilation
3

Comments
Published on 12.12.2006 by Hoya Suxa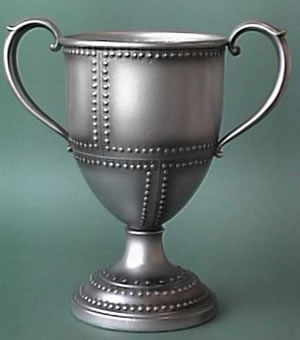 It's like the Oscars. But with ugly people.
The BlogPoll, long a bastion of workplace distraction, is officially entering the realm of self-glorification.
And I wholly intend on propagating such efforts.
Spearheaded by Joel over at
Rocky Top Talk
and the indomitable Brian Cook of
MGoBlog
, the Awards seek to honor both notebooks and individual essays penned this college football season.
The nominations that appear below constitute my proposed nominations for blog-related awards. Later this week I will debut my proposed nominations for essay-related, Blogger Championship Series, and I Wanna Talk About Me awards. Input and comments, as always, will not be discarded immediately.
The Dr. Z Award
Description

FOR: Cogent, interesting analysis.
CRITERIA: Emphasis placed on statistical manipulation, well researched pieces that reveal something new, and/or solid argumentative pieces that function as the authoritative last word on a subject.
Nominees
MGoBlog
Three words: Upon Further Review.
iBlog for Cookies

If Vijay isn't the most consistent blogger penning statistically-driven material, there aren't many others doing more.
Section Six
Steven really doesn't get enough credit for the work he does penning his N.C. State notebook. While the stat goodness really shines during hoops season, there is enough substance during football season that merits a nomination.
The Trev Alberts Quits to do Construction Award
Description
FOR: comic relief; overall hilarity.
CRITERIA: The funniest college football blog.
Nominees
Every Day Should be Saturday
A no-brainer.
The M Zone

Fought Colin Cowherd of ESPNRadio.
And won.
Sexy Results!
How do you not love Ian? Well, probably if you're an illiterate.
The Sports Fans Don't Cry Award
Description


FOR: The blog that has suffered through its chosen team's dismal season with the
most dignity.
CRITERIA: Continued engagement in the face of crippling, misery-inducing defeat. A stiff-upper lip and sane reaction to everything crumbling to dust.
Eds. Note
: Yes, this pretty much describes this notebook. No, I cannot nominate myself. Even if I could nominate this notebook, though, I wouldn't for the simple fact that I produced very little meaningful content here during the football season thanks to the bar exam, new job, moving, etc.
Nominees
Pitt Blather
Can six wins be a poor season? Yes, if you're Chas Rich.
Eds. Note:
I have no idea who else to nominate here. Any suggestions would be just terrific.
The Keith Jackson Circa 1995 Award
FOR: The blog with the most consistently expressive and excellent writing.
CRITERIA: Mechanical competency, yes, but the ability to turn a devastatingly funny phrase or write something compelling is probably more important. This isn't an award for copy editing; it's an award for kickin' prose.
Nominees
The Blue-Gray Sky
They almost write as well as I do.
Almost.
Sexy Results!
Ian's still the man.
The Brady Quinn Award
Description
FOR: The prettiest blog, the best layout and design.
CRITERIA: An aesthetic appeal, whether from a stylish banner, a pleasing layout, or an eye-catching incorporation of blog technology.
Nominees
Golden Tornado
Simple, yet superbly interesting.
AOL NCAA FanHouse
Interweaving a host of college football blogs into a single entity, AOL deserves a pat on the back for its efforts.
And it doesn't look terrible.
FanBlogs
Sleek with simple graphics and maneuverability.
The New Blog on the Block Award
Description
FOR: The best new college football blog.
CRITERIA: Must have launched sometime after last year's national championship game. Transitioning to a new blog or affiliating with a network mid-stream doesn't count.
Nominees
Troy Nunes is an Absolute Magician
Raw, but certainly coming along.
Eds. Note
: Other than the FanHouse, which apparently doesn't count, is there a notebook that I'm missing?
The LOL, MSM Award

Description
FOR: The blog best keeping tabs on the man and calling out all of the injustices
in the college football world.
CRITERIA: Consistently ahead-of-the-curve on controversial issues in college football.
Nominees
Sunday Morning Quarterback
Quite simply the best.
The Best Community Interaction Award
Description
FOR: The blog with the best community interaction.
CRITERIA: A regular solicitation of input from readers and utilization of reader-produced content.
Nominees
Burnt Orange Nation
Just gettin' it done.
Every Day Should be Saturday
When the comments are as good as the posts, something is terrifically right.